By Manette Newbold
Cache Magaine editor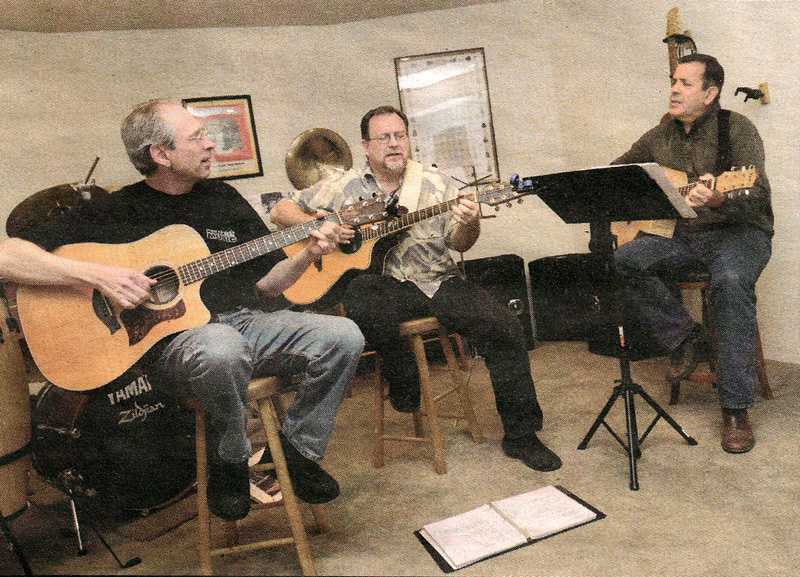 Jennifer Meyers / Herald Journal
Scott Olsen, Steve Roberts and Irv Nelson grew up listening to The Beatles, The Eagles, Bob Dylan, and Creedence Clearwater Revival. The nostalgia of the music takes them back in time as they practice on their guitars together at Roberts' home in River Heights.
"I remember I was walking downtown in California, walking across the street. I would have been 13, and I heard 'I Want to Hold Your Hand.' It was the first time... and my friend and I went, 'Wow,'" Roberts says, as Nelson laughs and agrees.
"We grew up in a fun time, really," adds Nelson, of Smithfield. "Much different from the YouTube and iTunes time. There was a new Top 40 every week and that's what the radio station played. And there was really only one decent radio station in most towns and you just listened to these songs over and over and over and took you guitar out and played them."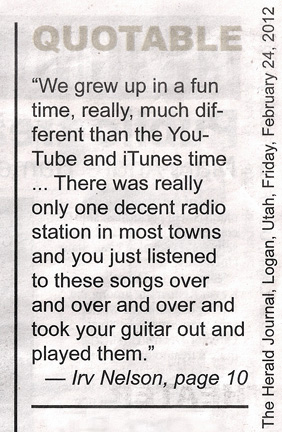 Olsen, Roberts and Nelson make up the acoustic band Relic, a cover band playing classic songs generations past and present have come to adore. The band came together about two years ago after they'd been playing for at least half a dozen years in The Fender Benders, another classic rock band with a much bigger sound. The Fender Benders have been seen at events all over the valley since 2003, from their beginning Firehouse Pizza days to demolition derbies, Smithfield Health Days, Summerfest, the North Logan 24th of July concert, and The Howl and Homecoming Dances at USU. That band is made up of five members (including Jim Eliason and Carl Hart) and requires a huge sound system. After a while Olsen, Roberts and Nelson decided they could play acoustic shows on a much smaller scale without a lot of set-up. With Relic, they just pack up their guitars and perhaps a small PA system and they're good to go.
Another reason they formed Relic was because the economy the last few years severely hurt The Fender Benders' gigs. Big events didn't have money to pay musicians and a lot of their annual shows dried up. With Relic, the trio can perform at Pier 49 Pizza (which is owned by Nelson), and Willow Valley Golf Course (which Roberts' wife owns),
and weddings
and anywhere else they're invited, at a much lower cost.
Each musician has a pretty extensive background in music and combined they have more than 100 years of performing experience. Olsen, of Garland, remembers the moment he decided he wanted a guitar. He was on a choir trip with students from Sky View High School and his friend brought his new 12-string guitar and three or four of them sat in the back of the bus and sang Bee Gees songs. "Every female was eyeing us, and I thought, 'I can do this,'" Olsen says, laughing. "It's all about the girls."
When the members of Relic play together, their voices blend together in distinct harmonies as they each strum individual parts on guitar. At times Roberts taps beats on the side of his guitar resembling drums. Their sound is mellow, but they definitely have their share of fun. During practice Nelson starts playing chords to a well-known, upbeat song, the Olsen joins in, changing the song to something else. They say this often goes in circles, the three of them playing the same chords, but singing several different songs with each combination.
Relic is out to have a good time, entertain, and keep the oldies alive; however, those who want to hear them will have to come to a show because the band doesn't have plans to record. "What's the point of a cover band recording?" Nelson says. "If you like the song, buy the original!"
To listen to Relic, visit relicacousticband.com or come to their next performance Saturday from 6 to 8pm at Pier 49 Pizza in Providence.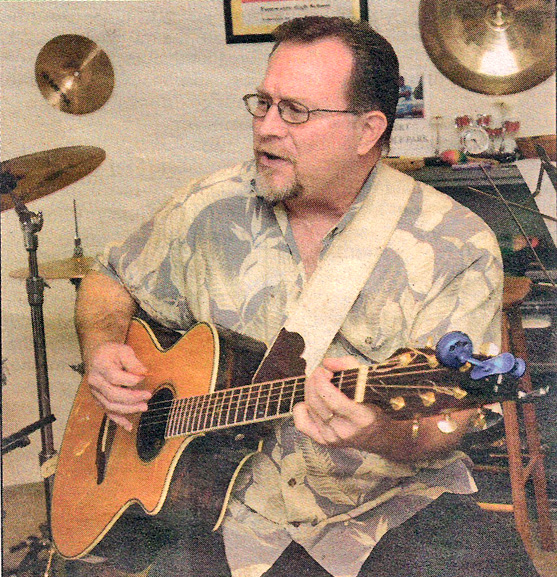 Jennifer Meyers / Herald Journal